As I scrolled through my twitter feed, I saw an ad about a Nigerian movie titled…The Royal Hibiscus Hotel by the crew at Ebonylife Tv. I found this a puzzling title for a movie and this piqued my curiousity so i did an internet search and watched the movie trailer on YouTube.
It was interesting that this movie was to be featured at the 2017 Toronto International Film Festival popularly known as TIFF. I searched online for tickets and decided to go and see for myself and invited my wife along. Unfortunately we got snagged in traffic and arrived pretty late. Hope was not lost as we were informed of another showing two days later. We made needed changes to our plans and arrived to watch the movie. I was so glad that we finally saw it.
TIFF is worldly acclaimed in the film industry and we got to find out that it was a special honor for this movie to be accepted; only one of three from Africa and the only one from Nigeria. We walked into the audience and saw a sea of Canadians much to our surprise. We had unconsciously expected a different crowd.
The Hibiscus is quite a popular plant known for its blooming flowers and this story truly bloomed.The story was set around a fledgling family owned hotel at the brink of collapse in Lagos. The family had their only daughter struggling to make a career as a chef in London but meeting endless obstacles along the way. She decides to return home to Lagos, Nigeria and revamp her family's hotel only to be met with some surprising twists.
The story was masterfully crafted, keeping the audience enthralled throughout the engaging journey. They were able to capture the beauty of Nigerian culture along the way in a most dignified fashion. The Caucasian audience were clearly impressed with what they saw. To many of them, it was another intriguing lesson about Nigeria and its people.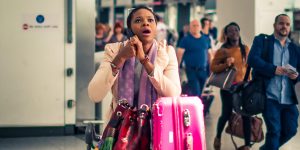 According to Chimamanda, 'there is a danger In a single story' that depicts our nation as underdeveloped, dangerous and corrupt. This is perhaps due to reports from misinformed or even mischievous sources but nonetheless, the responsibility of changing that story rests with us. After all every nation has an element of underdevelopment, danger and corruption. The world needs to see and learn more about this wonderful nation.
Our people are strong, beautiful, courageous, intelligent and industrious. The examples of Nigerian greatness and talent abound all over the globe. The medical field of the most advanced countries is loaded with an incredible number of Nigerian professionals and this is one of many examples. Our best is consistently found amongst the world's best. We have the ability to build a new reputation for our country and film is an undisputed avenue.
The success of the Nigerian movie industry "Nollywood" is quite unprecedented. It has grown from nothing to a billion naira industry and this is only the beginning. Already our movies are the rave all over many countries. I have a dream that one day, our movies will be common place standing with the likes of the Hollywood greats. Our actors and actresses will be standing shoulder to shoulder with the world's best.
There was a difficult start for the film industry having to deal with funding constraints and infrastructural gaps but the industry players endured and frankly have proved their mettle. There is a lacuna that has now been bridged and now the stage is set for greater consolidation.
The Nigerian movies of the future need to tell a new story about a great nation and its people. A people who have managed to stand and remain relevant in spite of diverse trials and tribulations. There is a new social consciousness wafting through the air, signs of a new beginning and a special future for our country.
There are stories to be told about our unsung heroes who fight in their own ways for honesty, integrity and social justice. Stories of people who are fighting to preserve the value of life and disrupt the failings of the system. Bringing to bear the age old understanding that every life matters and that everyone has the right to a good life and an enabling environment for that life to thrive. These ideals can be promoted even while maintaining entertainment value.
The story of 'The Royal Hibiscus Hotel' reminds me of the immense contribution that our folks abroad can make towards this new dawn. Many have searched far and wide for opportunity and many more are in a vantage position to contribute their essence to a New Nigeria. It also reminds us of the beauty that remains indisputable in our nation.
The cast of the 'Hibiscus' definitely bloomed like this delicate flower and their achievement will last for many years to come and just like the 'Hibiscus', this nation of ours is going to bloom in greater ways than we have ever seen. The labour of our heroes past shall never be in vain and we will serve with heart and might, this nation bound in freedom, peace and unity.
My name is Richard Olumide Oyefeso and I am a proud Nigerian 🇳🇬
Article by: Richard Olumide Oyefeso
Image credits: EbonyLife
Comments
comments