17 March 2017
Nigeria: Four Nigerians Shortlisted for £3,000 Brunel International African Poetry Prize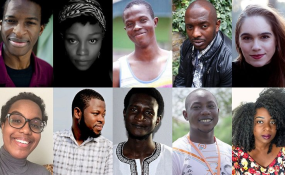 The 2017 shortlist.
The much awaited Brunel International African Poetry Prize shortlist has been announced. Currently in its fifth year, the prize has grown into a major prize for the continent. The prize received a record of 1,200 entries.
The season of literary longlists and shortlists has started and writers from the African continent wait in anticipation. The Brunel International African Poetry Prize released the names of shortlisted poets.
The Brunel Prize is sponsored by Brunel University London and Commonwealth Writers, and it's a collaboration between the two partners. It is open to African poets worldwide who have not yet published a full poetry collection.
The prize which comes with a £3,000 cash tag requires the poets to submit 10 poems. This year's judges are Chris Abani (Northwestern University), Safia Elhillo (winner of the 2015 prize), Patricia Jabbeh Welsley (Penn State University), and Chair and founder, Bernadine Evaristo (Brunel UniversityLondon).
According to the press release, the founder, Bernadine Evaristo said, "Out of a record-breaking 1200 entries, double the amount we received when the Prize began in 2012, the judges have come up with a shortlist of ten poets who reflect the increased quality and diversity of contemporary African poetry".
Evaristo added that they have received very few entries from North Africa in the past, and this year there is a North African poet on this shortlist for the first time, as well as Muslim background poets, whose presence reflects a similar increase in entries.
"The Prize has always wanted to celebrate LGBTQ poetry, which has finally come to the fore with two poets bravely and powerfuly exploring openly queer themes. The largest number of entries comes from Nigeria, which is also reflected in the four Nigerian poets on this shortlist. Nick Makoha, who co-won the Prize in 2015, also returns to this list, as does Kayo Chingonyi, who was previously shortlisted in 2013," Evaristo said.
The Prize, which is currently in its fifth year has had past winners including Somali writer, Warsan Shire who won the prize in 2013, Gbenga Adesina who co-winner with his fellow Nigerian Chekwube O. Danladi in 2016.
Most African literary prizes receive large numbers of submission from Nigeria. Most Francophone and Lusophone countries are hardly represented. This has led to many questions, whether the prizes really represent the whole of Africa.
The shortlist
The prize has four Nigerians on the shortlist, Romeo Oriogun, Rasaq Malik, Kechi Nomu, and Saddiq Dzukogi. The remaining other shortlisted poets were Sahro Ali (Somalia), Leila Chatti (Tunisia), Kayo Chingonyi (Zambia), Yalie Kamara (Sierra Leone), Richard Oduor Oduku (Kenya) and Nick Makoha (Uganda).
The press release further stated that, "The Prize works closely with Kwame Dawes and the African Poetry Book Fund (APBF) at the University of Nebraska. All the winners and most of the shortlisted poets of the past four years have had poetry pamphlets published with APBF in their 'New Generation African Poets' series of box sets, in partnership with US publishers Slappering Hol Press and Akashic Books".
Some of these poets are also publishing or about to publish their first full collections. "African poetry, almost invisible in the world of literature for decades, is now undergoing a quiet revolution with the publication of many brilliantly unique poets who are changing the literary landscape of the continent," the statement said.
The Brunel International African Poetry prize is one of the few poetry prizes available on the continent. It defines itself as "a major annual poetry prize of £3000, aimed at the development, celebration and promotion of poetry from Africa". The winner of the prize will be announced on the 2nd of May.
Boko Haram Leader Shekau Appears in New Video
Boko Haram leader, Abubakar Shekau, has appeared in a new video released on Friday, refuting recent attacks in Libya… Read more »
Copyright © 2017 This is Africa. All rights reserved. Distributed by AllAfrica Global Media (allAfrica.com). To contact the copyright holder directly for corrections — or for permission to republish or make other authorized use of this material, click here.
AllAfrica publishes around 700 reports a day from more than 140 news organizations and over 500 other institutions and individuals, representing a diversity of positions on every topic. We publish news and views ranging from vigorous opponents of governments to government publications and spokespersons. Publishers named above each report are responsible for their own content, which AllAfrica does not have the legal right to edit or correct.
Articles and commentaries that identify allAfrica.com as the publisher are produced or commissioned by AllAfrica. To address comments or complaints, please Contact us.
Comments
comments