6 April 2017
Nigeria: Court Orders EFCC to Unfreeze Patience Jonathan's $5.9m Account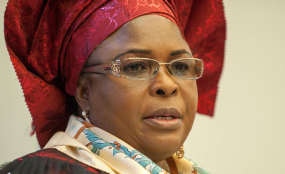 Patience Jonathan.
A Federal High Court sitting in Lagos has ordered the Economic And Financial Crimes Commission, EFCC, to unfreeze the account of former first lady Patience Goodluck Jonathan.
The account contains $5.9 million.
$15m: Further hearing in Patience Jonathan's suit for March 6
Recall that a Federal high court sitting in Lagos had in December last year ordered the freezing of multiple accounts by the Economic and Financial Crimes Commission, EFCC, suspected to be owned by Dame Patience Jonathan and also suspected to be proceeds of crime.
One of the accounts in the former First Lady's name contained specifically the sum of $5,316.66. The court while giving reasons as to why it ordered the accounts frozen said it was on the ground that the money is suspected to be proceeds of crime.
The order of the court was sequel to a further and better affidavit in support of Ex-parte originating summons sworn to by Abdullahi Tukur, an investigating officer of EFCC and filed before the court by EFCC prosecutor Rotimi Oyedepo Iseoluwa.
Patience Jonathan launches another lawsuit against EFCC
As part of investigations into the alleged diversion, the anti-graft agency also launched an investigation on a former Special Adviser to ex-President Jonathan on Domestic Affairs, Waripamowei Dudafa, leading to the agency's freezing of four companies' accounts in Skye Bank with a balance of $15,591,700.
Why Court Froze Patience Jonathan's multiple accounts
However, the Ex-First Lady, through her solicitor, First Law Associates, later gave the Economic and Financial Crimes Commission, EFCC, 14 days with effect from September 18 to unfreeze her accounts and tender a public apology to her, maintaining that, "our Client is a law-abiding citizen who has never or at all been the subject of any criminal and/or financial investigation, whether at home or abroad. Accordingly, she has not been found guilty of any criminal conduct throughout a sparkling public service career spanning over 35 years."
Details soon…
Former Petroleum Minister Charged With Money Laundering
The Economic and Financial Crimes Commission (EFCC) yesterday arraigned three officials of the Independent National… Read more »
Copyright © 2017 Vanguard. All rights reserved. Distributed by AllAfrica Global Media (allAfrica.com). To contact the copyright holder directly for corrections — or for permission to republish or make other authorized use of this material, click here.
AllAfrica publishes around 700 reports a day from more than 140 news organizations and over 500 other institutions and individuals, representing a diversity of positions on every topic. We publish news and views ranging from vigorous opponents of governments to government publications and spokespersons. Publishers named above each report are responsible for their own content, which AllAfrica does not have the legal right to edit or correct.
Articles and commentaries that identify allAfrica.com as the publisher are produced or commissioned by AllAfrica. To address comments or complaints, please Contact us.
Comments
comments